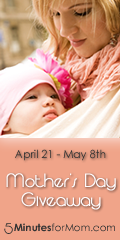 Every Mom deserves to be pampered on Mother's day, and
5minutesformom.com
has an AWESOME Mother's Day giveaway going on right now! There are GREAT prizes to win including an HP Pavillion dm1 (notebook) so make sure to head over there and enter to win!
*******************************************************************
Just a quick note from us

:
Our area battled severe weather yesterday including numerous tornadoes. We are all ok, but many families around us are hurting due to the loss of homes/property and worse, the loss of family members. Please be in prayer for these families as they mourn, heal, and pick up the pieces. We also ask for prayers for all the service workers out there working non-stop to restore the power. We thank and praise God for His protection and our safety!
******************************************************************
Thursday Blog Hops: