Join in the fun and link up for the Social Parade!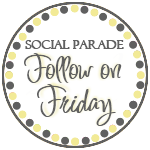 The Social Parade is a GREAT weekly hop that you can join to find some awesome new blogs to read, socialize, or meet new followers.
Hope you'll take the time to head over and make some new friends!
*************************************************************************
Birthdays Galore!
I mentioned in an earlier post that we'd be REALLY busy this week, and one reason is because the month of May is FULL of birthdays for our family. Everyday practically for the first couple of weeks! We have birthdays to celebrate on the 8th, 9th (my Mom), 10th (bro. in law), 12th, and 13th (Presley's), and then more birthdays later in the month for my Aunt and Grandma. Needless to say, with so many birthdays around Mother's Day, it makes for a tight schedule.
My Mom is actually going to be out of town this year for Mother's day :( so we decided to celebrate with her a little early. We enjoyed dinner and cake/icecream (for her bday) on Wednesday night and had a great time. I spent all day yesterday getting invitations ready to send out to Presley's little friends for her 4th birthday party, and I also had to prepare invitations for a baby shower I'm hosting on the 21st as well. Whew!! Looong day!
Presley's having a Luau birthday party. Her invitations were
messages in a bottle
that I got from Oriental Trading for $14.99 a dozen. They turned out super cute. Here's what they look like on Oriental Trading's website:
You can mail these invitations just like they are- in the bottle! They've all been sent out...now we're just praying our temps get into the 90's next week so the water in the pool won't be freezing!
ALSO....
One of my closest friends welcomed her new baby boy into the world this morning, and can I just tell you how precious he is??? He weighed in at a whopping 11 lbs. 3 oz and was 21 inches long...OMG!!! Good thing she delivered him by c-section! Here's a peak at Mr. Jack Tanner...isn't he a sweatheart? And, just look at those fat little cheeks! Makes me want to kiss all over them!
Congrats John and Julie!! He is absolutely adorable!
Now...I'm done rambling...I think! lol! My mind is going in a million different directions. I'll try to post pics of all the projects I'm working on (and pics of the bday party of course) soon!
Have a GREAT Friday everybody!!!